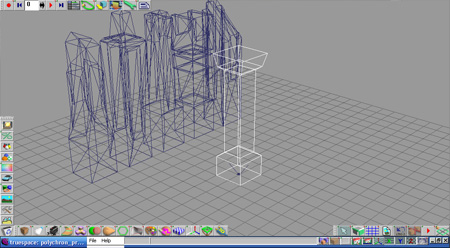 My apologies for not making a larger post right now, but I have exciting news for anyone who's looking to enter into the world of 3D design on a budget… I recently found out, through an advertisement email I got at work, that TrueSpace 5 (my 3D design tool of choice) is on sale right now for only $40! For a program that normally retails around the $199 mark, that's a heck of a deal!
I know that if you really want to get a job in the industry, it's best to learn Maya or 3D Studio, but if you're not quite at that level yet, or you just want a tool that's easy to use and still powerful in output, consider checking out TrueSpace. It's a great way to introduce yourself to working and editing 3D scenes, and has some pretty nifty animation and physics features to boot. My one caveat with TrueSpace 5 is it's lack of a good UV editor, but if you don't mind using a separate tool for this (or you're planning on keeping your models within the program), then you're good to go.
Check out this link to Caligari's website for more information. Anyway, I'll have a bigger post about some of my secret favorite games soon, but I just wanted to help promote a product I've enjoyed over the years for now!