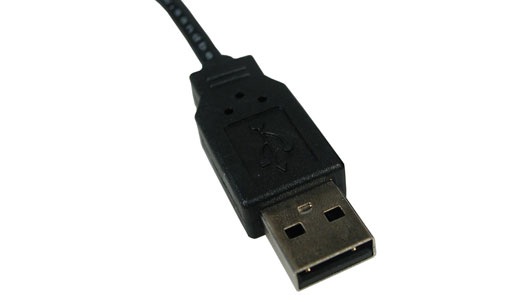 The other day at work, I wanted to move around some of the items we have sitting on a table at the back of the room I work in.  This included a monitor, a small printer, and a large flatbed scanner.  The monitor and the printer were easy to move, but the scanner had run out of USB cord length, so I couldn't move it any farther away from the computer it was attached to.  Thinking I had remembered seeing a USB extension cord floating around the office somewhere, I got out our box of random computer parts and started digging through it in hopes of finding something useful.
After only a minute or two, I came up victorious: one of our Macs had come with a USB extension cord for the keyboard that was about two feet long; perfect for moving the scanner.  I put the box of junk away and dove under the table to add the extension cord to the mix of wires coming out of the back of the computer.
The male end of the extension plugged into the back of the computer alright, but then when I tried to attach the female end to the scanner's USB cable, I found that they wouldn't connect to each other.
I checked to make sure the connectors were the same size; they were.  I flipped one end of the cable around, thinking I might have just made the mistake of trying to plug them in upside-down, but this didn't work either.  Slightly frustrated, I pulled the cable out of the computer and brought it back into the light where I could examine it more closely.
And that's when I saw it.  The female end of this otherwise normal USB cord had a small raised notch right down the center of one end.
This slight change to the connector does not exist for any functional reason – it was placed there solely to prevent the end user from using the cable for anything other than what Apple had intended it for.  I unplugged the keyboard from my computer and checked the male end of its USB connector, and sure enough, there was the matching groove for the extension cord's notch.
What utter horse shit.
Forget, if you will, that Macs typically cost hundreds (if not thousands) of dollars more than their PC counterparts.  Forget that none of my games will run in Mac OS.  Forget that Macs have a somewhat limited library of software compared to Windows.  Forget the throngs of imbeciles known as Mac fanboys.  And, if possible, try to forget all those annoying and factually deficient Jason Long commercials.
This is why I will never get a Mac.
You'd think that a company who charges such a ridiculous premium for their computers would have the common courtesy to at least include a USB extension that follows industry standards and works with other devices, but no.  After all is said and done, Apple sticks to its guns, follows the same path it always has, and makes a no-stop trip straight into proprietary hell.  At this point, I'm honestly surprised that they haven't started releasing their keyboard / mouse with custom triangular USB plugs, to prevent people from using them on non-Apple computers.
This is the kind of bogus practice that will eventually hurt Apple's reputation with consumers, and they deserve every bit of criticism for it.
And don't even get me started on the new iPod Shuffle, which requires proprietary headphones to work.