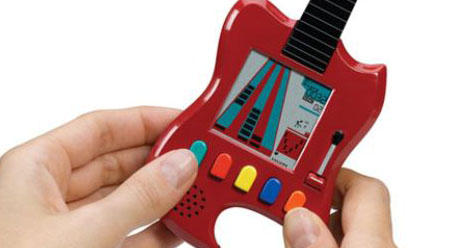 As a gamer, I'm not normally the type to look down upon the gaming habits of others.  Sure, I'll make the odd quip about "freestyle" DDR players now and then, but generally I don't give my fellow gamers too much grief for doing whatever it is they choose to do.
This stance has lead me to defend Guitar Hero / Rock Band, games which I have played very minimally, whenever someone brings up the "you should just learn a real instrument" argument.  I've even argued this point with my dad, who is an actual musician (he plays bass guitar).  I had an epiphany at a GameStop which changed my views on this slightly, and which makes me wonder about how far the rhythm games can go before they've gone too far.  It also makes me wonder if I'm the only person who's ever had an epiphany at GameStop.
While I was at GameStop, they had a Guitar Hero III display set up.  Instead of the usual speakers, the display was outfitted with headphones so interested players could try the game out without disturbing other shoppers too much.  I was waiting in line to order a game.  A kid who was obviously familiar with Guitar Hero walked up to it and – headphones on, guitar in hand – got set to play.  The people in line in front of me were going back and forth with an employee about trading in games, so I curiously looked on as the kid began to run through a jam session.
Click-click-click.  Click-click-click.
Click-click-click.  Click-click-click.
I heard the game in a way I'd never heard it before.  Without the music to accompany the rhythmic input, the mechanical monotony of the whole thing was instantly exposed.  And while I know that many games, some of my favorites probably, could be broken down into a series of infinitely repeatable hand motions, the illusion of Guitar Hero, nay all rhythm games, had been broken from this moment forth.
Enter Rock Band.
Guitar Hero got me used to seeing people rocking out holding small, plastic guitars with buttons instead of strings, but I'm not sure that I'll ever be able to accept the ridiculous menagerie that is the full band ensemble of Rock Band.  Not only does this setup look completely ridiculous standing before the TV in anyone's living room, but it costs a small fortune, and so starts to encroach on the grounds of "you might as well just learn to play a real instrument."  Feast your eyes on this piece of work: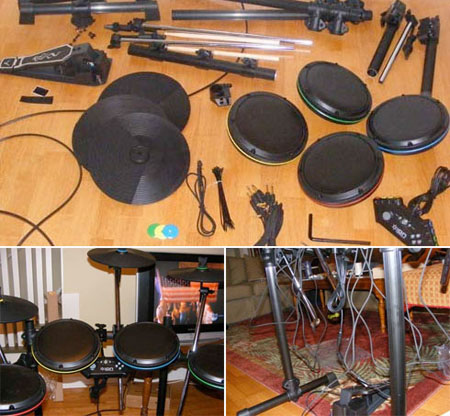 All this for a video game?  Really?  Do I even need to say anything else…?
If you're going to put all the effort into buying, building, and learning to play these ridiculous game controllers, why not just put in a little extra effort and learn the real thing?  It'll likely be more personally satisfying, and could even land you a career you'd always dreamed about, but never really considered.
Don't get me wrong though – I still don't wholly agree with the naysayers; I don't really think anyone is trying to substitute real musical talent with a game of Guitar Hero or Rock Band.  There is definitely a place in the world for our beloved rhythm games.  I personally think it's awesome that an entire family can rock out to tunes in Rock Band, with each member on a different instrument.  I like that Guitar Hero is doing its part to revive interest in classic rock.  And hey, even those DDR freaks dancers have impressed me from time to time.  I just feel like these things have gone a bit too far (the drum kit above being a prime example), and if there's a possibility for some non-electronic achievements now and then, why not take them?  I think that with the advent of more advanced (and expensive) "instruments" that argument is becoming more valid.
Alright, I'm done preaching.  Public service time is over.  Pick up the plastic guitar, and rock on.