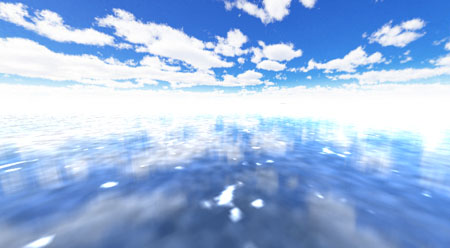 I was recently Looking over my old water example, and I decided I could make something that looks a little better.  So I dove into Game Maker (and Photoshop of course) and produced, what I feel, is a much nicer and more realistic water effect.
This water still doesn't use any other geometry other than planes to create the effect (ie, no actual wave effects), but the new animated texture adds a new level of detail that my previous example just couldn't pull off with only a few layers of static textures.  I used a similar texture in my old fishing game demo, and I am planning on posting a full tutorial on how to create the effect in Photoshop soon.
The 3D example also includes code for a skybox (courtesy of Yourself), and I will post a tutorial in the future on how to create compatible skybox textures with Terragen as well, too.
Anyway, the zip includes a 2D and 3D version of the example, for both GM6 and GM7.  I'd appreciate that you use this for learning only – so don't use the artwork (animations / skybox) without obtaining permission from me first, please!
Download here (3.68 Mb) and enjoy!