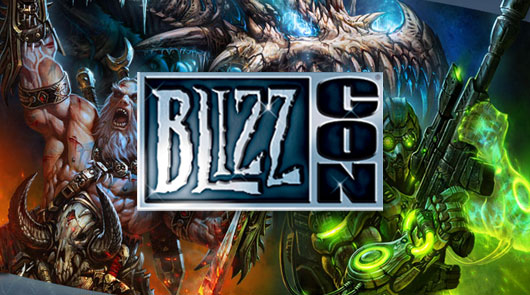 Time flies when you're having fun, I suppose – I'm back from BlizzCon 2009, and though I don't quite feel ready to head back to work, and all the other responsibilities of non-vacation time, it's good to be home.
My trip started off as the typical Marty-planned trip does: poorly.  I happened to hear about when tickets were being sold for BlizzCon 2009 only a few days before the first sale, but I wasn't able to grab any of the tickets in the first round, as I wasn't home that weekend.  My luck turned around somewhat quickly though, and I was able to get in and score a couple of tickets very early in the second (and final) round.  I also got two cheap plane tickets.  As was the case last year, this trip was to be for myself and my brother, to celebrate his birthday.
As the old saying goes, however, the best laid plans of mice and men oft go awry, and Spencer (my brother) found out only a week before the trip that his work couldn't give him the required time off.  He was upset, and I was faced with a dilemma; I wanted to go on the trip, but I didn't want to go alone.  Geeking out simply isn't as much fun by yourself.  I felt bad too, since the trip was originally for Spencer.  So I could skip the whole trip and just spend the time off with him instead.  A friend of mine was attending the show this year, and he could pick up our goody bags if I chose to stay home.
After a few days of mulling it over, I decided I'd just go on the trip by myself.  I wasn't entirely pleased with this, but I didn't want the money spent on tickets for the show and for flight to be a complete waste.  This way, I would also be able to pick up our bags of junk myself, so my friend didn't have to bother with it, and I could attend some of the panels of the show, which I knew would be interesting and fun.  I made some changes to my flight times, jumped on a plane, and made it down to BlizzCon for a fun couple of days.
Lucky for me, I didn't have to go it alone after all; my girlfriend happened to have enough miles on her frequent flier rewards card for a free flight to Anaheim and back.  So my trip, which had up until this point, looked like it was going to be lonely and somewhat disappointing, actually turned out to be quite fun.  My girlfriend isn't really into games, but she still had a good time as I showed her around the exhibition, explaining all the odd sights and sounds.  And we got to venture out and do some shopping, as well as just hang out and relax, something we'd both been needing.  I really appreciate the effort she took to come with me, and it was a great impromptu vacation!
But now we're both back at home, and at work.  My new World of Warcraft pet, Grunty, is prowling around in Azeroth.  My n00bz is guarding the rest of the junk on the shelf in the computer room.  And even though I'd rather be off on vacation again, I'm happy to be back as well.  Hopefully my next vacation isn't so long in the making, and better planned to boot!