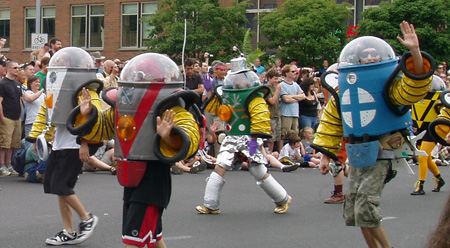 After a few well-deserved days off, I'm back on the mean streets of California, choking on the smokey air, navigating the dense freeway traffic, and cranking my air conditioning up to 11.
I bet you didn't even notice I was gone, did you?  (Don't answer that!)
I had a great time though, and I wanted to post a bit about it here before I return to the doldrums of my normal updates…  and before I get back into working on my competition entry, which I'll be showcasing on the blog as soon as I can.
Anyway, my girlfriend had to do some traveling up north for her work, and seeing how we both love it up in Seattle (and we both needed a break from the California heat), we decided to make an extended weekend out of it.  Our legs are sore from all the walking around, but we both had a great time, and got to see and do a lot of cool things on the trip.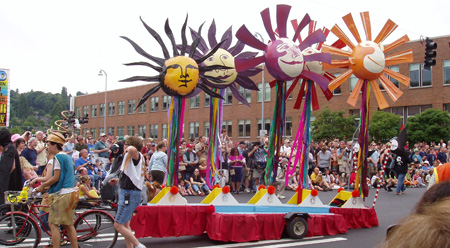 Fremont Summer Solstice Parade
Our first stop, after dropping off our bags at our hotel and grabbing a bite to eat, was the Summer Solstice Parade in Fremont.  My girlfriend, having lived in Seattle for a few months some years ago, had already been to the parade before.  I, on the other hand, had not, and was pretty excited about it.  Watching a throng of crazy people parade down the street is always fun, right?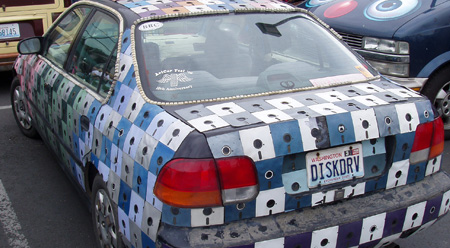 Turned out it was.  The parade, which was founded on the principle of being entirely human-powered, was filled to the brim with neat ideas for floats, interesting costumes, and awesomely-demented people.  The Fremont street fair, a large gathering of local crafters and merchants, was equally cool, and was about ten times larger than the last time I'd seen it, presumably because of the large gathering for the solstice parade.  I liked the "art cars" they had there as well.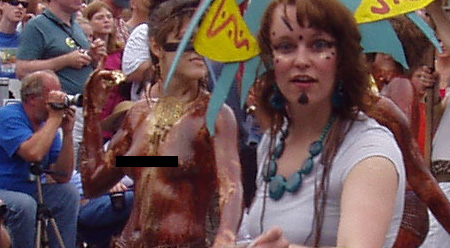 One thing that took both my girlfriend and myself by surprise (in a good way) was the pre-parade bicycle cavalcade.  Admittedly, this probably doesn't sound very exciting – until I mention the fact that 90% of the people riding these bikes aren't wearing anything but some body paint and a smile.  All I can say is that public nudity is awesome, and I should have gotten my camera out sooner.  Maybe next time!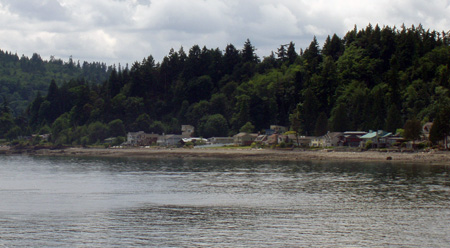 Bainbridge Island
On the west side of the Puget sound rests Bainbridge Island, a small bit of land accessible via only one bridge to the north, and by ferry from Seattle.  Though neither my girlfriend or I have ever explored the island in its entirety, we always manage to find something fun to do there, and usually some good eats as well.  For this most recent trip, we made it to Doc's Marina Grill for some excellent fish & chips, and then walked up the hill to the Bainbridge Pavilion to rest and catch a movie.  We ended up watching Kung Fu Panda.
I actually really enjoyed Kung Fu Panda, for a few reasons.  Probably the first things you notice about the film is that it's a visual splendor.  The backdrops are beautiful, the animation is slick, and the characters are amazing – there isn't one scene in the entire movie that isn't a complete treat for the eyes.  The all-star voice acting was also very well done, especially Jack Black's performance as the panda, Po, who leads the film.  Also well done is the story, which is somewhat predictable, but which is told so well that it manages to stay just fresh enough to be interesting.
Kung Fu Panda is definitely a children's movie, but I liked it a lot, and would see it again.  I actually feel somewhat inspired to create a stylish Kung Fu-type game now, but I need to finish my competition entry before I start something like that.  Kung Fu Panda was a great movie though, and I highly recommend it.
Dinner with Gunner McJack
If you've followed Reflect Games since its beginnings, you probably recognize the name Gunner McJack – a hardcore firearms master, and a professional ass-kicker.  The fictional Gunner McJack is derived from a character a friend of mine and I created back in college.  I got to grab a bite to eat with my buddy, who's taken on the nickname of Gunner McJack, which was fun.  Not much more to say about that, except that I still do plan on making a Gunner McJack game one of these days.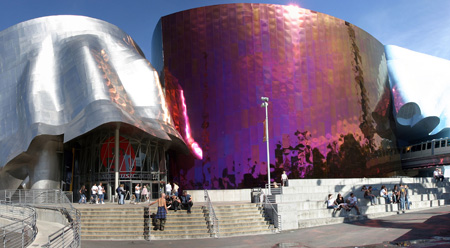 Experience Music Project
One of the last things my girlfriend and I got to do in Seattle was visit the Experience Music Project, or EMP, which houses some really great exhibits on the history of rock 'n roll, as well as the Science Fiction Museum and Hall of Fame.
I wish we would have had a bit more time to look through both sections of the EMP.  The collection of historic items from rock history was impressive, and the current exhibition, a Jimi Hendrix retrospective, was amazing.  The compendium of related items was fun to look at, and even included pages from Hendrix's diary detailing a few nights of gigs.  Also on display was a large collection of historic guitars, spanning the range from awesome to eccentric.  Upstairs from the main floor are a series of booths where you can learn the basics of playing a variety of instruments, audio mixing, etc.  There's also large media room where you can listen to and watch audio / video clips of artists discussing their songs and performing.  I'm not an audiophile by any means, but I could have spent at least a few more hours looking at everything.
The Science Fiction Museum also had a great exhibit, titled Robots: A Designer's Collection of Miniature Mechanical Marvels, which contained a large number of robot models and toys, including various Transformers, Mechagodzilla, and other gun-toting, plastic automatons.  It was a great way to end the tour through the museum itself, which housed a fine collection of science fiction memorabilia from every era since its inception.  I'm not sure if most of it was replication or original, but it was awesome to see artifacts like the original Star Trek costumes, the gun Bruce Willis used in The Fifth Element, and the E.T. spaceship.  It was also quite enlightening to see how entrenched our culture is in science fiction, and I think that even my girlfriend, who isn't really into science fiction much, got a kick out of some of the show.
And Now I'm Back
So yeah, after a whirlwind of activity in Seattle, I'm back.  I'll be picking up production on my competition game again tonight, and probably getting in a little gameage on the side too.  You'll be able to read about all that here, and I'll try to get some images (or maybe some video!) of the new game uploaded soon.  It was a great vacation, but I'm glad to be back, too.  After all, being at home and getting things done now is what makes vacation in the future so much more enjoyable!
Thanks for reading, and if you're up in the Seattle area, check out some of the stuff I mentioned above, if you can.
EMP photo courtesy of Cacaphony / Wikipedia