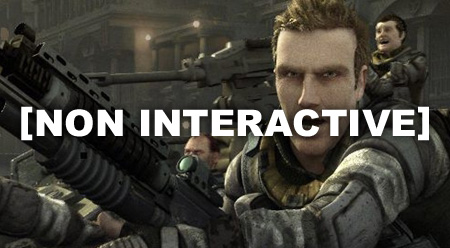 The trend is annoying. It's deceptive. It's insulting to my intelligence. And sadly, it shows no signs of ever coming to an end. I am speaking, of course, about the video game industry's constant use of CGI (computer generated imagery) trailers.
My disgust for this practice has been sloshing around inside my head for a while now, but the issue really peaked for me back in 2006, when Sony unveiled supposed in-game footage of Killzone 2, which later turned out to be a CGI trailer. There was a lot of backlash over this, and I agree with all of it – it pointed out both how tempting it can be for game companies to deceive the public with CGI, and how easy it can actually be when our game systems are almost capable of producing such visuals anyway.
Imagine you're putting together an awesome movie. It finally comes time in production to get the word out and get people excited for the upcoming film. Your press agent asks for some promotional materials to show people… what would you give them? Would you create a video of animated characters and special effects, completely unlike the visual style of your film?
Of course not – it's ridiculous to even suggest it. But if you were working on a game instead of a movie, you'd probably come to the (erroneous) conclusion that as long as it's generated by computers somehow, it should pass for a good way to show off your game.
I find this trend annoying because, when I hear about a new game, I want to see what it looks like. If I watch a commercial or download a trailer, I want to see the game in action to get a feel for how it will play, how good the graphics are, etc. The last thing I want is a CGI trailer that gives absolutely no clear idea of what the game is about. What good does that do?
My other main beef with CGI trailers is the fact that I sometimes get the sense that they are meant to masquerade as real game footage, and the deceptiveness of this disgusts me. As game graphics get better and our systems become more advanced, the line between CGI and real-time rendering is getting blurrier. So not only does it sometimes seem pointless for a studio to release CGI when real game footage would be just as good, it also makes the CGI route seem like studios just want the public to think their game will look better than it does. For gamers, this isn't usually much of a problem – people who are used to viewing game graphics and computer-generated videos can usually tell the difference between the two – but it is still a very low-class thing to do, in my opinion, and just serves to confuse people who aren't dedicated game-players.
In the end, I suppose my complaints don't hold a heck of a lot of weight, considering the games industry has been in constant growth for many years, despite the rampant use of CGI trailers. Pre-rendered computer-generated videos definitely have a place in there somewhere, but I really think that publishers / developers should always try to show real footage first. I know that sometimes it's important to get PR materials out the door, in order to generate buzz for upcoming games, but if they just took a little extra time to polish existing videos and screenshots of the actual game, they'd be doing both themselves and their fans a favor.
And I'd have one less thing to complain about.