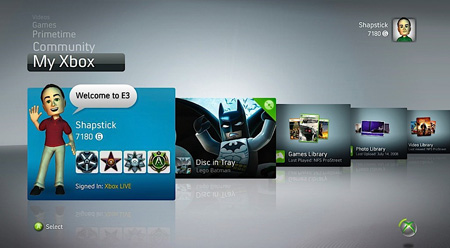 As many of you already know, E3 is officially underway, and many of the top companies in the games industry are busy pushing announcements out of airplanes and watching them fall on the unsuspecting crowd at the show.  Unfortunately for me, I am not at the E3 show, but as a faithful fan of the Xbox 360, I feel it my duty to talk about some of the more amazing reports that have come back from Microsoft's side of the show.
Read on for my list of awesomely unexpected Xbox 360 E3 announcements!
Microsoft partners with Netflix, NBC / Universal

Thanks to a new partnership with NBC / Universal, TV shows and movies under these companies will be coming to the XBL Marketplace.  This is great news for fans of movies like The Bourne Trilogy and TV shows like 30 Rock.  Hopefully The Office (my favorite show) will see some Marketplace love as well!

Netflix will also be supplying its streaming movies service through the Xbox 360, and those of you who already have a subscription will be given access free of any additional charges.  It seems Microsoft is really pushing the 360 as a more universal media device.  So long as they keep the primary focus on games, you won't hear any complaints from me.
Massive Dashboard Update, Avatars, the whole nine yards

Rumors about a dashboard redesign, including a new avatar system, have turned out to be true.
I've not investigated this very deeply yet, but it seems that the blades system currently in the OS will be the new in-game dashboard, and the normal OS screen will look more akin to the screenshot above.  Avatars will be the new way to identify players.  The many other new features are included:
8-way chat
Social functions, photo sharing,
Ability to watch Netflix movies with others
Optionally install games to the hard drive, for faster loads (and quieter gaming?)
Purchase / queue content on the web for download with your PC, automatically starts on Xbox
Xbox Live Primetime announced, which incorporates achievements, leadboards, and real prizes into a TV / game hybrid
There are probably a lot more updates as well – these were only the larger of the ones I've read about.  These changes all reflect the (slightly) new direction Microsoft is taking with Xbox Live, dubbed the Xbox Live Experience.
Exclusive Content & Pile O' Games
Among the many Xbox Live Arcade titles announced, a few stood out among the rest:
The exclusive downloadable content for Grand Theft Auto 4 was also mentioned briefly – purportedly as what will be a huge event.  It was also announced that Fallout 3 (by Oblivion's Bethesda) will have exclusive content via XBL as well.
Not to be left out were the usual slew of big game announcements for the upcoming months, including one massive bombshell (at the end of the list):
Mind you, all of this was only announced in one day – it seemed for a while as if the internet might implode from all the awesome news, and the buzz surrounding it.  And then, since we always want more, demos for Too Human and Tales of Vesperia were placed on XBL for play.
I've already tried out the Too Human demo, and though it does have a few odd quirks (including a slightly story that's impossible to follow with the TV volume turned down), I had some fun with it, and I think I just might buy the game.  More on that later though – I'm going to go take some time to digest all this news (and maybe a little midnight snack as well).
One thing's for sure – it's a very good time to be an Xbox 360 owner!
Screenshot courtesy of Joystiq