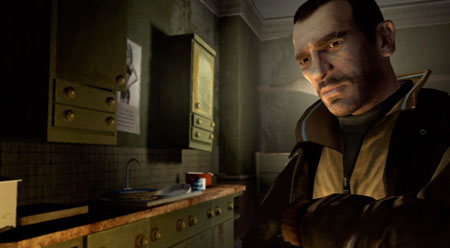 That's not to say that I'm done playing around with the game necessarily, but I finally made my way through the final mission of the game today.  I'm writing this as I listen the music during the credits (which have been going on for at least ten minutes now, with no end to the stream of names in sight).
The last mission was, appropriately, one of the missions I had to play more than a few times to get right, and had enough good cinematics and explosions in it to make it a worthy final mission for the game.
Overall, I've enjoyed Grand Theft Auto 4, and I think that many of the complaints people have had after the initial flurry of praise, about the game being a disappointment, were mostly unfounded.  Grand Theft Auto 4 was the next logical step for the series, and I think that it was a great success in taking the franchise into the next generation of cpu / gpu power.
My biggest complaint was that the final mission, and the jobs leading up to it, just never had as "epic" a feeling as some of those from the other games, like GTA: Vice City or even the first itteration of the game to go 3D, GTA 3.  When Rockstar went to such great lengths to make the city alive and full of detail, I would have liked to have seen the story get so out of control that at the end the entire city sees the destruction and carnage as it happens between Niko and his enemies.  Something like the end of the Matrix, where Neo and Smith virtually destroy the world (pun intended).
Still, the ending was good, I enjoyed the game from start to finish, and I liked just about everything that Rockstar has done with the game.  There aren't too many games I've played that represent the real world so well that, when you see little things happening in the game that reflect life so perfectly, you can't help but smile.  I'm sure I'll continue to do that as I play through it some more and uncover the secrets I missed while playing through the main story.
For now though, I'm set to finally beat Phoenix Wright as well (I put it off for a long time, huh?), and I'm also considering picking up a used Game Cube to scratch a Mario Sunshine itch I've been having lately.  For about the same price as an Xbox 360 game I can buy a Game Cube, Mario Sunshine, and a memory card, so I'm totally tempted.
I've got to work on my competition entry some more too, probably…  so we'll see.  In any case, I've finally scratched at least one of the games off my backlog now.  So the summer wasn't a total bust, I suppose.
Image courtesy of Team Xbox