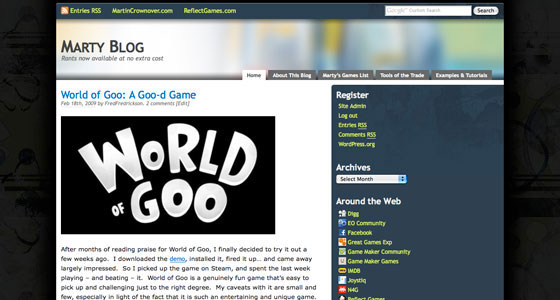 As you've probably noticed, I've changed out the theme for Marty Blog again – but this time I feel like I'm really giving it the proper attention it deserves, with something a little more unique, and a lot better to look at.
The new theme is very loosely based on the excellent PrimePress WordPress theme by Ravi Varma. It also makes use of QuadGrunged, an awesome set of Photoshop brushes by env1ro.
There are still a few quirks I'm working out, like getting the search page functional again and adding a few of the widgets that I had added manually in the last iteration. I'm also considering changing out the header image, or having it be randomly switched out or something;  it's a work in progress, I suppose.  Overall, I really like the direction I've taken the theme, and I hope that everyone out there who drops in to read the blog likes it too!
If you encounter any odd problems with it, have questions, praise, or just feel like posting a comment on a website, drop me a line below. Thanks for reading!