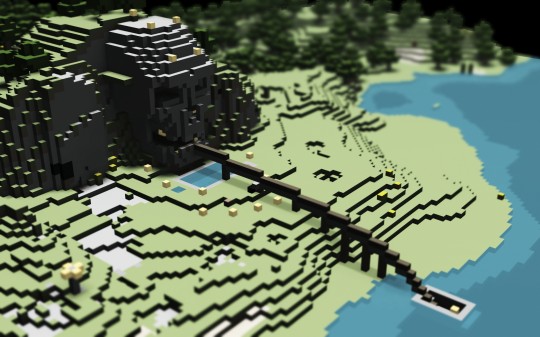 One of the things I've been doing in the time since my last major blog post was dabbling with rendering some of my Minecraft exploits.
One of my biggest projects in the game (before I started "cheating" with INVedit and MCEdit) was Skull Island. Across a wide expanse of water from my original spawn and home base, I found an island with a large mountain near the water. It could be seen faintly from the water's edge near my spawn, and I thought it'd be a cool project to carve a large skull into the cliff face. After a few weeks of work (not always consistent play, but it did take a awhile), I was finished. It wasn't the best thing I'd ever seen made in Minecraft, but I liked the result, was proud of my work, and have decided to post the results here, for the curious.
In order to render my Minecraft levels, I first output them to OBJ format using mcobj, which is a great little tool. I used my old 3D standby, trueSpace, to do the actual rendering, and did a little work in Photoshop afterwards for some of them as well.
Here's the final render I did of Skull Island. The depth of field effect, which was part of the original render, gives it a nice little tilt-shift photography effect that I feel is very appropriate for Minecraft. I also did some post-process color work in Photoshop.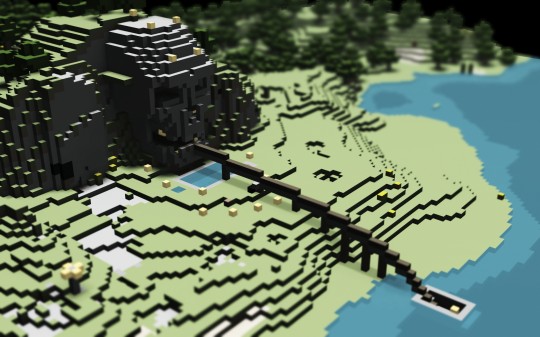 That line coming out of the water and going into the skull's mouth is actually my mine cart track that leads back and forth between the two land masses. On the way over to Skull Island, you come flying up a long incline and immediately see the giant skull looking ahead before your cart goes sailing between the front teeth!
I also did an alternate view from my home base area on the other side of the water. There's no sky output when you export maps from Minecraft using mcobj (and I don't see how there could ever be, really), so I had to make my own. The following two images show the render with and without my faux-Minecraft sky.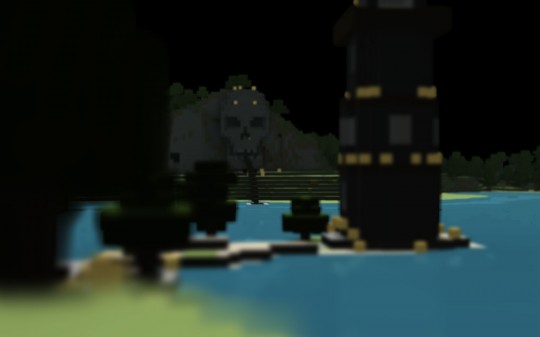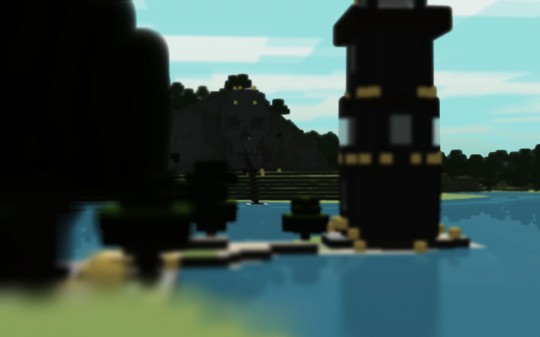 I also did a render of a small lake, to test water transparency / reflectivity and depth of field.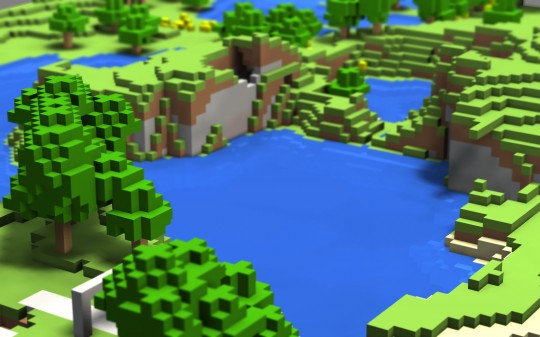 And finally, just for kicks, here's an image of my poor computer trudging through a rendering… the phrase "firing on all cylinders" comes to mind!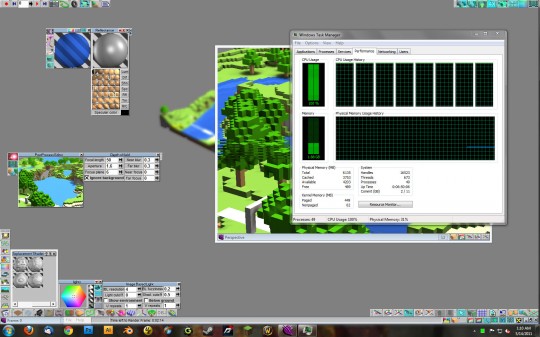 If you play Minecraft and you don't mind getting your hands dirty with some simple 3D work, rendering your worlds is a pretty fun way to make the whole experience a little more artful. There's a good sub-reddit for mcobj at r/mcobj, and people have also written up some decent tutorials for creating renders with Blender too, so there are lots of resources out there to help get you started if you're interested in all of this.
Thanks for reading, and if you have any tips, tricks, or other things to share about creating Minecraft renders, be sure to add them in the comments below! And of course, if I create any more interesting renders, I'll be sure to post 'em here on the blog!