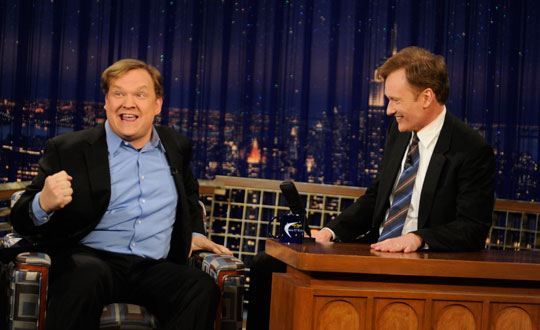 Though I haven't been staying up late enough to catch much of this last week of The Tonight Show with Conan O'Brien, I have been  keeping up with the whole debacle every day on the internet.  A proud member of Team Coco, I've been hunting down the latest clips every day, and have been greatly amused by Conan's increasingly insulting monologues.  I've also had good fun seeing all the other late night hosts weigh in on the issue, as well as other people completely outside the blast radius (Ricky Gervais had some awesome things to say at the Golden Globes).
One of the best videos I've seen (barring Conan's monologues of course) has been the following video, from the same Chinese TV firm who created the infamous Tiger Woods car crash CGI re-enactment.  Though I can't understand the audio, I think the visual half of the video speaks for itself:
What, no Pale Force?
Anyway, it's too bad Conan won't be doing The Tonight Show for longer.  I always liked him on Late Night, and he seems like a much funnier guy than Tonight's former (and soon again to be) host, Jay Leno.  Hopefully Conan goes on to something much better and stomps Leno in ratings.  Leno deserves it for not taking the high road and bowing out, and to a greater extent, NBC deserves it for making crappy decisions at the whims of their affiliates.