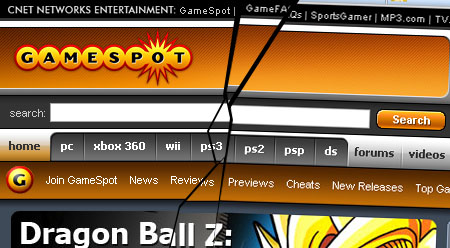 I'm not a frequent visitor of IGN – I actually rarely visit the site at all, except to do occasional product research (for buying and discussion), or to see what score they gave the latest, hottest game. Years ago I used to be a more avid reader of IGN, but something always bugged me, even in those early days when the site was still finding its stride – the ad content.
And I'm not talking about those full screen ads that come up in between links. I'm talking about the presence of ads for rival products on review pages, the whole site conversion ads, and the effects of these ad campaigns on the objectiveness of the site's content. These things trouble me greatly.
Before I venture further down the rabbit hole, let me say this: I know there is no such thing as a completely objective review. We all have our personal biases, weak and strong, towards people, companies, places, things, etc. and I both understand and acknowledge this. My commentary here, however, is about how advertising dollars can take people beyond objectivity, and how quickly integrity is lost when this happens.
Let's also do a quick poll before the festivities start:
In order to make my case, I've brought along a few examples of how corrupt online journalism actually is. These exhibits have left me shaking my head, nearly to the point of injury, so take care to rest your neck now and then if you need to.
Rotten Apple
It's actually quite unfair for me to mention IGN singularly at the outset of this article, when the greatest offender I've seen thus far is CNET, and it's stable of websites. In fact, one of the worst examples of dirty advertising and its ability to make me question the veracity of the hosting site isn't even a games-oriented website; good old CNET.com was gracious enough to provide.
I present to you Exhibit A, the "Don't Give Up On Vista" ad that Apple ran on this page, CNET's Windows Vista landing zone.
Yeah, it's kind of amusing. But on a site that purports to be an authority on fair, unbiased tech reviews, it's alarming. How can I expect a fair look at Windows Vista when CNET frames their space in a competitor's advertisement? 'Childish' and 'irresponsible' are all I can say about this.
BFF's: Jeff Gerstmann, Kane & Lynch, GameSpot, and Eidos
Next on the docket is the infamous "Gerstmann-gate" incident, a flub that eventually led to the creation of the daftly named website Giant Bomb, and which turned out to be quit a deal-breaker for a good deal of GameSpot visitors. It's kind of a long, convoluted story, so here it is in a nutshell:
Back in November of 2007, Jeff Gerstmann, who was working as Editorial Director for GameSpot, wrote a shabby review for Kane & Lynch: Dead Men. Now, game review websites do this all the time – it's not usually a big deal. Shortly after the review was posted however, it was withdrawn and replaced by a more favorable review, and Gerstmann's employment was terminated. Rumors of Eidos Interactive's disapproval of the review and urgings for a firing followed, and the fact that the site had been plastered with ads for Kane & Lynch only days before didn't help much either… and well, I think you can figure out why this was such a big deal in the end. This entire debacle was the result of stupid, knee-jerk decisions made by people who care not for the integrity or objectivity of true journalism.

Who Reads The Manual?
While I could still debate the usefulness of the PlayStation 3, even at this later point in it's life-cycle, back when Lair was still in the works, things were looking even more desperate for Sony fans. Anxious for a larger game library and a title that truly justified the cost of entry, PS3 owners turned their hopes to Lair.
As it turned out, this hope was misplaced – Lair turned out to be a fairly lousy game. So where was the controversy, you ask? Leave it to Sony.
After all the poor reviews for Lair started flooding the gates, someone at Sony had the brilliant idea that game reviewers just weren't reviewing the game correctly. The solution, they found, was to send out "Reviewer's Guides" to game reviewers; essentially a manual created to tell the editor how to properly review Lair.
I shouldn't even have to tell you how ridiculous this is. If your game is so bad that in order to extract some good reviews from the crowd, you've got to tell people how to review it, you're doing something wrong.
GTA 4. Er, 9.5… I mean, 10
Let's take a quick trip back to GameSpot for their ever-changing review score of Grand Theft Auto 4. The score originally posted as a 9.5, but after being live only briefly, the score was taken down and changed to a perfect 10. A server glitch was cited as the cause, but after seeing all the other sites give the game a 10, could it be possible that GameSpot didn't want a repeat of the Gerstmann fiasco? You be the judge.
Don't Mention It
The most recent failure in the integrity of game reviewers rides in on the heels of one of the most hyped games of the year so far (after GTA4, of course), Metal Gear Solid 4.
One of the few uniquely PlayStation games is finally about to land, and though all signs are pointing to it being a great, polished game, there's always a catch. This time around, Konami, MGS4's developer, has asked reviewers not to mention the length of the non-playable cut-scenes in the game, or the install time required to play the game. In fact, they've gone so far as to deny pre-release review copies of the game to any reviewer who won't follow this stipulation.
EGM, while not my favorite source of game reviews, has actually released a statement to the public announcing that they will not abide by this request, and that they will wait for the street release to put out their review. Other sites, like IGN, would rather throw integrity to the wind and post their review earlier. Guaranteeing both millions of hits to their website, and complete loss of credibility. Assuming it was there to begin with.
But where does this trade-odd end? What would stop a company from disallowing a site to release a review early unless they gave it a favorable score? There is no doubt that this is a troubling subject – but we must worry about it now before the problem gets worse.
A Call To Arms
This is bullshit, friends. All the incidents above paint a dire picture of game review journalism, and these are but a few of many that we have probably not and never will hear anything about. We're spending good money on games before we even play them, all on the word of people whose paychecks are, in the end, provided by video game publishers. These publishers have a lot on the line when they release games, and many of them have demonstrated the great lengths they will go to to guarantee a big return.
What can we do about it? Ignore the "exclusive" reviews. Don't visit the big review sites (or their collection of sister sites) as often as you do now. Find smaller sites with better intentions, and don't trust everything you read. You owe it to yourself, not only as a gamer, but as a human being, to make sure you're not being fed marketing garbage from a friendly face calling himself a reviewer. Rent games if you want, and always, call the final shot yourself.