After having read about countless people playing with the Spore Creature Creator (and watching the amount of creatures added to the online database jump by the thousands with each page refresh), I finally got a chance to try it out myself… and it's pretty fun! Say hello to Velociraptard up there at the top – download him from the creature database at Spore.com!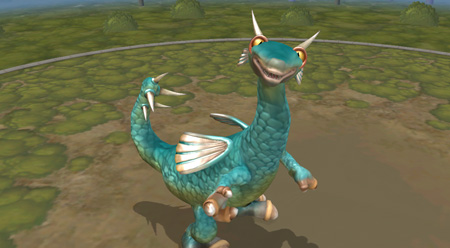 You can also grab Dragfin… a goofy blue dragon I made.
I haven't had a chance to give this a really lengthy go-round, but from what I have played so far, it's intuitive, easy, and fun. Taking your creature for a test-drive as you develop him is awesome, and the features the team has built into the game for taking pictures, creating videos, animated avatars, etc. is great. I'm still going to reserve final judgment for the final release of the game, but just from this small taste, I think Spore is going to turn out great.
As with the Mii channel on Wii, half the fun will be to see what kind of creations people can make that resemble existing creatures. I've already seen a Murloc creature floating around, and it was a pretty damn good recreation.
Anyway, I'm going to get back to playing around with this, as well as working on my YYG Competition 3 entry – be sure to try out the Creature Creator though, and let me know what you think!