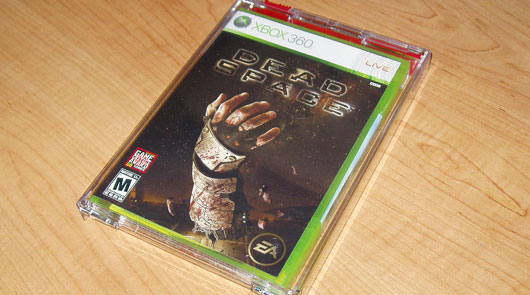 I found myself in the local Target today, perusing the games section of the electronics department.  Game releases have all but dried up over the last few months, but I always like to check in now and then, just to see if anything new came out that slipped under my radar, or to see if anything I'd been marginally interested in had been marked down.
Surprisingly enough, I found a single copy of Dead Space, which I'd wanted to try, marked down to $30 for clearance, so I decided to give it a go.  I took it up to the register, and waited a few minutes for one of the clerks to notice me standing there.
Eventually one of the workers wandered over and took care of my purchase, and then I met my girlfriend up front and we continued to checkout for her stuff.  We drove home, and upon arriving at our apartment, I forgot all about Dead Space and fired up some retro e instead; Wind Waker is turning out to be a great little game for me, but that is another blog post, I think.
An hour or so later, I finally remembered Dead Space, so I picked up the Target-emblazoned plastic bag it was in, and brought it into our spare room.  I noticed the bag was a bit heavier than a typical Xbox 360 game, so I opened up the bag and peered in, thinking there might be something else I'd bought that had completely slipped my mind.  But no, there was nothing else inside the bag except for the game.  Unless, of course, you count the plastic security box the game is still inside.
Yes, my new copy of Dead Space is still completely secured thanks to the Alpha Security box that houses it.
I find it odd that the alarm system in the store didn't buzz when I exited the store, because the plastic security case includes a re-usable security device that, to my knowledge, is not supposed to be disabled by the in-counter disabling device used by the clerk.
I am also disappointed that the clerk didn't take the thing off in the first place; I specifically paid for the game in the electronics department because I thought they'd be more mindful of those kinds of things.
So now I'm sitting here, staring at my brand new copy of Dead Space, and wondering just how I'm going to get the case open without completely destroying its contents.  Should I take it back and have them open it up for me?  That seems like such a hassle…  not to mention a great opportunity to test my own ingenuity.  Okay, so it's not exactly a job for a professional safe-cracker, but it should provide me with at least 15 minutes of fun.  That's more fun than I've had with some of the games I've bought in the past, and this is before I've even opened the game's case!
Update – Case Open, Case Closed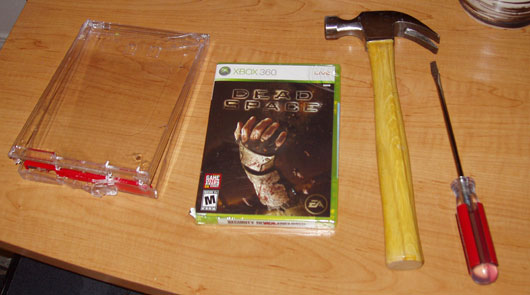 The case has been cracked, as they say, and I now have my Dead Space, with only minor damages to the game's case.  At first, I thought the best approach would be to hammer off the box's hinges.  After sever futile attempts to break them off (and the minor damage to the game's case), I took the opposite approach and wedged a screwdriver into the lock casing on the other end of the box, pushed it inside and yanked it around to destroy the lock and allow the case to open.  I think that if this ever happens again, I might just bring the game back to the store and let them deal with it!
Pictured above is the demolished security case, my new copy of Dead Space, and the tools of war.