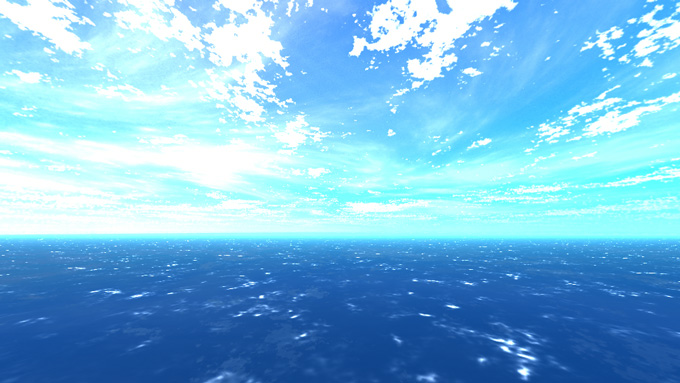 I've updated my old 3D animated water examples to be compatible with GameMaker: Studio today, combining the two former examples into one superior example.
The previous examples used two methods for creating the water effect. The first used layers of scrolling, textured 3D planes drawn with an additive blend mode to make a detailed, if not always pretty, body of water. The second used a pre-animated texture, created in PhotoShop, to create a similar effect. A skybox was also employed, to make for better background scenery.
This new example combines methods from both of these files to create, in my opinion, a superior effect. With this updated example, the layers of scrolling texture have been relegated to a surface, which gets updated each step. This surface is then drawn over a base color plane for the water, all over a skybox with pre-baked reflections built in.
The effect could probably be more detailed, or could benefit from shader support for true reflections, but for what it is, I think it's a notable improvement.
You can find the updated file for this example on my GameMaker Examples & Tutorials page.