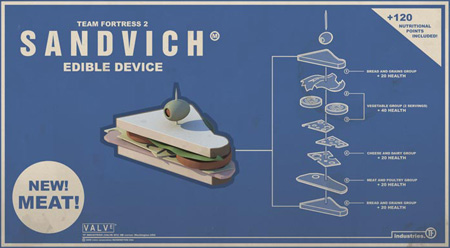 With the latest Team Fortress 2 update, which includes the new Heavy class achievements, weapons, and a new game mode, Valve has also released another short trailer for the game: Meet the Sandvich.
The "sandvich" made its debut in the Meet the Scout video, where it changed hands between the Heavy and Scout after a scuffle, and continues to be the source of conflict in the newest video.  It's also a new unlockable item for the Heavy class. It can heal 120 health, and the Heavy who has it equipped has an unlimited supply.  The downside is that eating it makes a considerable amount of noise, and leaves the Heavy vulnerable for four seconds while he consumes it.
Watch the video below!