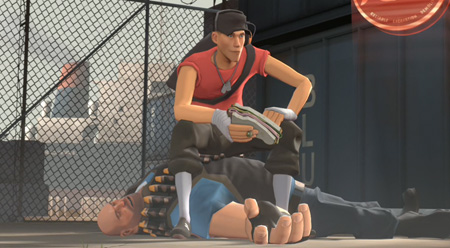 Yeah, yeah, I know – right on the heels of my "CGI Trailers are Trash" post comes another about how great a new CGI trailer is… Well, this is a bit of a different case than what I brought up in my other entry, so I'll hear no complaints.
So in case you've not heard about or seen it already, Valve has released another Team Fortress 2 character vignette, this time for the scout, and I remain both impressed and excited for them. To date, we've seen videos for the soldier, heavy weapons guy, engineer, demo man, and scout, and my only complaint so far is that we've had to wait so long in between each video.
If it means that we will continue to see such high-quality stuff, however, the wait is fine with me. In contrast with the ridiculous marketing materials I complained about in my last post about CGI trailers, I feel that these vignettes show that Valve truly cares about their Team Fortress 2 project. The visuals are rendered with expertise, the dialog is genuinely funny, and the voice acting is excellent. Most importantly though, they maintain the same attitude and style of the game, and they don't insult my intelligence by trying to masquerade as actual gameplay footage.
Well done, Valve. I'm looking forward to future character profiles!
I've re-encoded and uploaded all the previous vignettes below (and after the break). If you haven't seen 'em, I highly recommend watching them. They're instant classics, whether you play the game or not!
| | |
| --- | --- |
| Heavy Weapons Guy | Engineer |
| Soldier | Demo Man |
Videos courtesy of Valve.