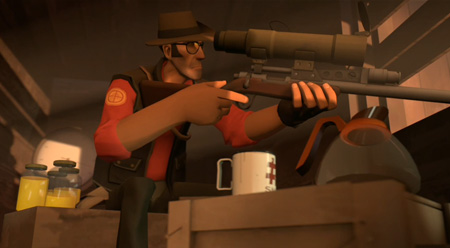 In all my excitement over the Spore Creature Creator and trying to fit my game playing / creating time into the remainder of the day, I nearly forgot that Valve had announced a Team Fortress 2 update, along with the release of a new character vignette!
Meet the Sniper is another brilliant clip introducing the playable character classes from TF2, this time, quite obviously, for the sniper.  The short video follows the sniper around his "workplace" as he guns down and machetes enemies, drives his truck, and…  talks on the phone with parents (who, by the sniper's own admittance, don't like his job).
The camping scene and the ending are also fantastic, but I won't ruin it for you – watch it for yourself, below.
As I mentioned in a previous blog post, these videos are the result of a fantastic promotional campaign for Team Fortress 2 by Valve.  They shine with the kind of polish that can only be obtained via confidence and respect for one's work, and considering how great of a game Team Fortress 2 is, and continues to be with each class update, Valve has a lot to be proud of.
I've yet to play the updated flame-thrower, but I'll be sure to report back here when I do.
And for one last note – don't forget to download Firefox 3 if you haven't already.  It's hardly been 24 hours since its launch, and the new browser has already been downloaded over 7 million times!  That number seems a bit bloated, but – wow!  Congratulations to Mozilla – there's no doubt their little browser is a big hit.