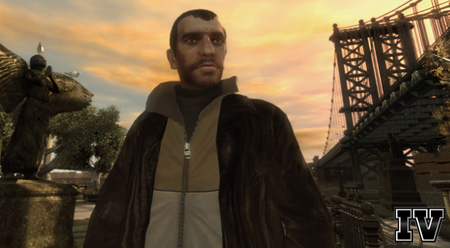 If you've been keeping up with my blog, you know that I've been pretty excited about Grand Theft Auto 4. Actually, looking back on my posts, I guess I haven't written about it all that much, but you can attribute that to my intentional avoidance of all things that might reveal too much about the game to me. Yes, I want to go in with a completely fresh view of the game. To my credit, I have been talking up the game something fierce to my friends (in the hopes of having some fun people to play online with), and I went out and pre-ordered the game at my local GameStop last week.
Last night, the game went up for sale at midnight. I'd been debating on whether or not I wanted to go out and pick it up then, and finally I decided I'd just drive by the store and see how many people there were. If the line was huge, I'd simply turn around and leave; I normally have to get up for work around 6:15 AM, so waiting in line for an hour and then only playing for a few minutes is out of the question.
When I rolled by the store, I felt my judgment give way to temptation. The line looked about 50-60 long, but my gamer lust rationalized that each person in line would be anxious to the get the game, and would thus spend as little time as possible at the register. I got out of my car, and stood behind the last guy in line. After a moment I decided I'd check my wallet to see if I even had my pre-order receipt with me (even though I'm pretty sure GameStop will honor the pre-order regardless).
It was at this time that the man in front of me finished a drag on his cigarette and turned around.
"If you haven't been here since 5, you've got to go inside and exchange your receipt for a second receipt." These are the words he said to me.
"Really?" I stammered. The prospect of having to wait in not just one huge line, but now another was not something I wanted to think about. Confusion and fury were gripping me.
"Yup," came the smoking man's reply.
I took a step out of line to survey the scene, and then my judgment got a better grip on me again. If I waited in line here for an hour, I'd barely have any time to play when I got home. I'd go to sleep late, get up early, and be too tired the next day to work efficiently and, more importantly, enjoy some GTA4.
"I think this line's a bit too long for me," I muttered, and I turned and left. 60 man line and second receipts be damned – I'll be picking up my copy this afternoon on my way home from work.