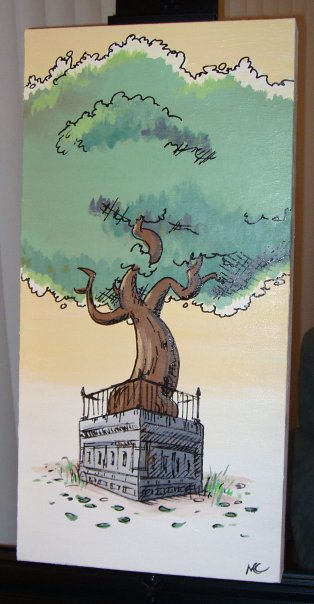 Just wanted to throw down a quick update here, since it's been quite a while, and I'm sure many people out there are sitting on the edge of their seats, wondering if I'm lying in a gutter somewhere.  Many sleepless nights were had, courtesy of my lack of updates, and I am sorry.
Fear not, however!  I am alive and well, and have just been busy with a lot of work and, of course, a lot of play.
I don't think I'd posted the above picture on the blog yet, so there it is – a tree painting I'd done some weeks ago for a contest and auction for the Sacramento Tree Foundation.  Sadly, it didn't get accepted into the limited space of the show, but I'm glad to have made it, and I have more ideas for some other paintings in this style.
This painting was done in acrylic paint and paint pen on a 15″ x 30″ canvas.  Here's the sketch the painting is based on (ink on 5.5″ x 8.5″ sketch pad):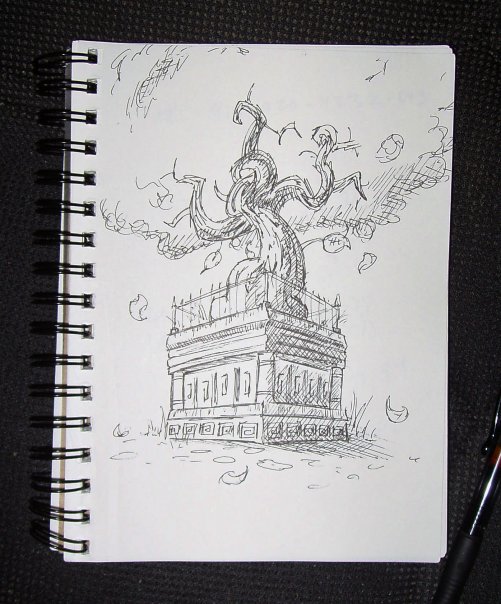 During my time away from the blog, I got to go up to my parents' house for a bit one weekend, and went out on a small vacation to Sonoma with my girlfriend too.  I had a great time with both, and the time away from doing work has been refreshing.
Speaking of work, I've got more work lined up for No Love Skateboarding – along with the rat image I posted a while ago, which was used for a shirt design and then reconfigured for a skateboard design, I've done a Denver cityscape and have a few other projects for shirts and boards on deck which I'll post here eventually.I'm also working on a disc label and CD jacket for a friend of my dad's, Johnny "Guitar" Knox, who is a local blue guitarist in the Sacramento area.  That project is going a bit slower than originally planned, but it's getting done slowly.
I've also got a logo to design for my girlfriend's cousin which I have yet to start.
And finally, probably the biggest time sink of them all, I've finally completed Dragon Age: Origins, after about 60 hours of play.  The game was good, long, and fun.  I'm glad I finally got into it.  I've already started another play-through, but I think I'm going to take a break for a while so I can finish on my aforementioned projects, as well as re-acquaint myself with some of the other games I've neglected over the months.
After the somewhat botched Gears of War 3 announcement last week, I've been thinking about running through Gears of War 2 again on Insane difficulty, so I can grab all the collectibles I missed and have some more action-oriented fun for a change.  I also want to sink my teeth into some of the Mass Effect 2 DLC that came out while I was playing Dragon Age, but I'm just not in the mood for another epic gaming marathon right now.
Anyway, thanks for checking in, hope the lack of posts hasn't kept anyone away, and (again, I know!) I shall try to be better with the updates.