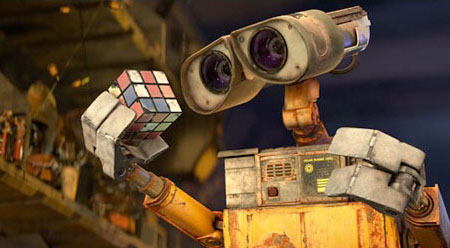 Late Friday afternoon my girlfriend and I found ourselves wandering around Blockbuster, suffering from that affliction everyone gets when they go into Blockbuster Video without a real idea of what they want to get – slack-eyed, drooling, wandering slowly, aimlessly, watching endless amounts of videos scroll by as you move around the perimeter of the store.
I stumbled across a whole shelf where at least a hundred copies of Love Guru were supposed to have gone.
I spotted a growing plague of Blu-Ray movies.  I'm going to stop going to Blockbuster if they ditch DVD's in favor of that trash.
And then, just as I was nearing the end of the alphabetically arranged wall, I spotted Wall-E, and remembering I had wanted to see the movie, snatched up one of the few remaining copies.  My girlfriend couldn't find anything herself, so we snapped out of the delirium, paid, and drove home.
We had a quick dinner, took care of the few things around the apartment, and settled in to watch the movie.
From the opening montage of a trashed earth to the film's glorious finale, I was both moved and impressed by Pixar's latest film.  I won't discuss the plot in detail, since I don't want to spoil the movie for anyone.  If you haven't seen Wall-E yet though, go out and rent it – it's worth the monetary, physical, and emotional cost of visiting Blockbuster (or whoever you rent movies from).
I went into Wall-E not knowing anything about the setting, the characters, or the plot.  I'd not read anything about it, save for a few minuscule complaints (and counter-complaints) about the "message" within the plot and something about the Apple noise being played in the film.  The few ads I'd seen on TV were vague.  Being a fan of Pixar films though, I was intrigued by the look of Wall-E despite having no real exposure to any media surrounding it.
The story follows Wall-E, the last surviving Waste Allocation Load Lifter Earth-Class robot as he goes about his daily routine helping to clean up a ruined Earth, his friendship with another robot with a much different directive, and their adventure as they do all sorts of roboty things to help make the world a better place to live.  One thing I found really refreshing in all of this is that the two robots communicate almost entirely with gestures, as neither has the ability to perform advanced vocals of any kind.  Through much pantomiming you learn a lot more about Wall-E, his friend, and their plight than you might have if the film had included more traditional dialog between the two bots, and this mechanic of storytelling really helps you feel the same sense of curiosity that Wall-E feels as he travels around and discovers new things.
The story is complimented by some of the best visuals I've seen in a Pixar movie to date, as well as a musical score that speaks to the same inquisitive nature of film's protagonist.  I could go on and on about how much I enjoyed the visuals and host of sounds in the movie, but I'll cut that short and simply say that I was impressed, and I really think Pixar went above and beyond with Wall-E.  This movie was fun, entertaining, and has a great message about the future, about friendship, and the rewards of teamwork, and it's got my complete recommendation.
After finishing Wall-E, I continued my bonding experience with the couch and watched some other movie on one of the time-limited movie channels I have, and then went back to my computer to play around with Terragen 2 sky boxes.  I finally igured out why those seams were showing up on the edges.  It was a good night.