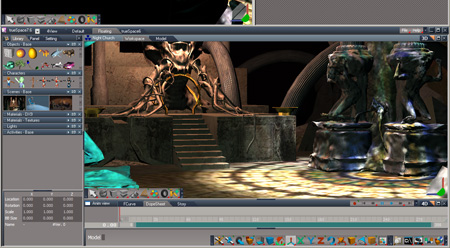 I checked my email this morning, and found a nice little nugget of goodness deep within – a message from Caligari informing me that the newest version of TrueSpace has now been made available for free!
You can use this link to register at Caligari.com, after which you'll be able to download the program, the manual, and some quick start videos.  Make sure you've got your downloadin' gloves on; in total you'll be grabbing about 313Mb of stuff.
There are a good collection of free video courses available here as well.
I've not even used version 7.6 yet, but from what I have read so far, it seems to be a huge upgrade from 5, which is what I currently use for everything.
I finally had a chance to play around with version 7.6 this morning, and though it is very different from 5, it's also much more powerful.  The editor features a realtime rendering engine that can do shadows, reflections, and a lot of other neat effects as you work in the editor…  which opens up some great opportunities for fine tuning scenes to look just right before doing a final rendering.  I've not been able to get the included offline rendering engine to load up in TS7 yet, but when I get home from work later today I'll play around with it some more and see if I can get it to work.
You'll probably need a pretty decent computer to run everything in real-time, but I've been running the program on the laptop we have here at work, and it seems to run reasonably on that, so most near-modern desktops should be fine.
All in all, this is very exciting for fans of TrueSpace, newcomers looking for a powerful, free 3D package, or anyone who's just yearning for a new design experience.  If I wore hats, my hat would be off to Caligari for making such a wonderful tool, and then making it free.  Hopefully this is the start of something big (and good) for the company.
All images courtesy of their respective author, Caligari gallery