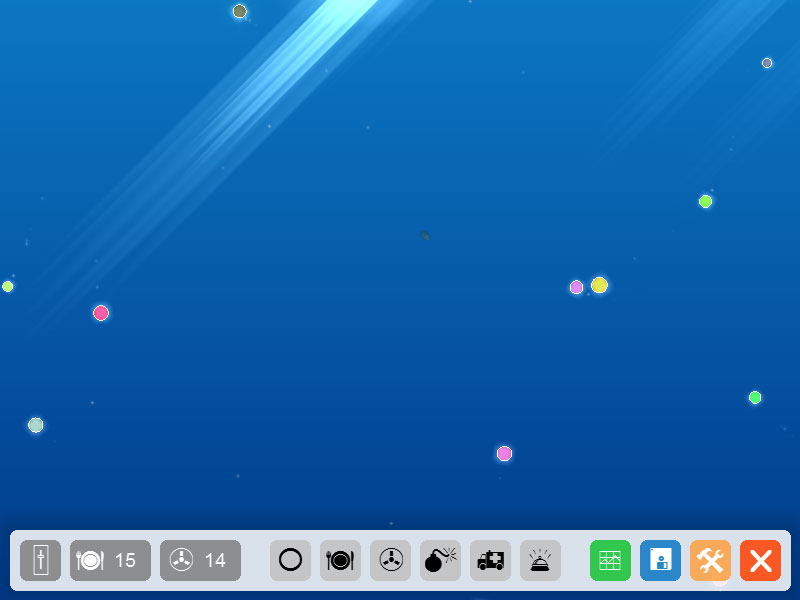 Information & Links
Download game (4.14 Mb)
Created with Game Maker 8 – 800 x 600 windowed
Project work time: May 10, 2006 – June 20, 2006
Newest update released: March 7, 2010
Description
Welcome to Evolites, a simple life simulation where you indirectly control the fates of a countless number of tiny, unique creatures, known as Evolites. As the Evolites evolve naturally, various tools are at your disposal to save, destroy, create, and interact with them. You may let things run their course, or you may directly intervene, and make sure that only your chosen strain of Evolites survives!
Partially inspired by the opening sequence of the game Spore, and partially a pet project that just seemed fun to make, Evolites was created to interest, entertain, and relax all types of gamers, casual and up. The game features a mouse-only control setup, and large, colorful graphics. Online functionality via the Reflect Account System is also built-in, and a handful of options put you at full control of how you want to play the game.
Check out the Evolites mini site, including the online catalog, here.
Interesting Facts
Evolites is the first game I used GML to create particles in, from the small bubbles rising, to the sunlight shining down into the water.
Evolites have many stats that vary in between each individual; the amount of uniqueness each Evolite can have is tremendous!
Evolites is the first in a series of games to feature Reflect Account functionality.