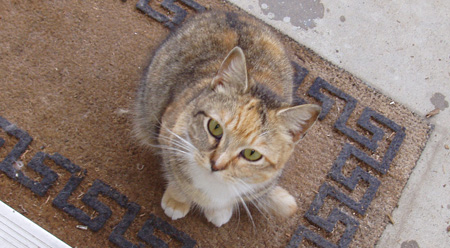 Every now and then something annoys me so much that I just have to say something about it. File this under that heading.
Let's say that one day, sometime in the future, a hostile alien race came to Earth and decided to destroy the entire planet. Except in the midst of all the explosions and such, they reconsidered, and now you are the only person – nay, the only thing – left from the original Earth. The alien race, not having taken the time to study Earth before destroying it, relies on you to tell them all about the earth so they can recreate it exactly as it was (or at least, exactly as you remember it). What would you tell them? What would you make better, or worse?
One thing that I wouldn't tell them about is "lolcats." I would take the opportunity to strike them from the history and from the collective consciousness of the world without a second's hesitation.
And now, I can practically hear the thoughts of people who would be greatly distressed by this… "OMG! I'm on ur blogs, rightin complaintz!" or "WTF! I can has hates for u!"
Hate all you want – I wouldn't tell the evil space aliens about lolcats. No sir. If I see another picture of a cat within close approximation of a computer (or game console), overlayed with unintelligible graffiti, it'll be too soon. Lolcats are stupid. The end.