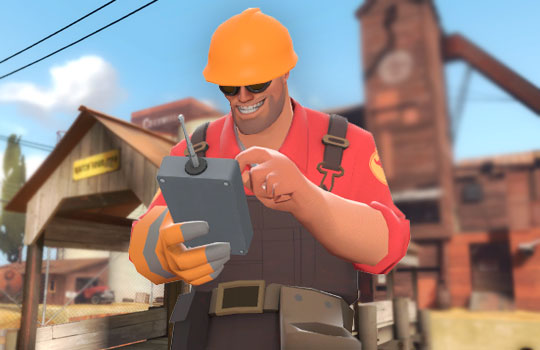 At long last, Valve has finally delivered the promised Team Fortress 2 Engineer class update!
After slogging through months of other less interesting updates like the Steam port to Mac and Valve's horribly disappointing E3 "surprise" (Portal 2 on PlayStation 3…  yawn), the addition of Engineer achievements and unique class weapons is a breath of fresh air.  It's the patch that fans have been clamoring for since the inception of class updates for TF2, and it looks like Valve's lost no steam (pun intended!) in providing unique, fun, and rewarding additions to the game.
In total, the new update offers Engineers a new gun, two new melee weapons, a new sentry gun, a remote for sentry guns, and the ability to move placed sentry guns.  Additionally included are four maps and the requisite slew of Engineer-oriented achievements.
I'm most excited about the ability to move around already-placed turrets, as well as the sentry remote control.  After building a sentry gun and upgrading it to the highest level, it stinks to have to destroy it just to place another in a more active part of the map as the action moves around.  Now, you don't have to do this – you just have to be careful when you pick it up and move it, since dieing while carrying the packed up sentry will cause it to be destroyed instantly.
Controlling turrets remotely is also a great addition.  Though it takes the slot of your pistol to use the remote control (dubbed the Wrangler), it can be invaluable in helping to keep your construction alive while you run off to do other things.  The sentry goes offline for a few seconds when you switch back to controlling your Engineer, but this is only a minor annoyance.
You can read about the rest of the items and maps in more detail at the official Team Fortress 2 Wiki.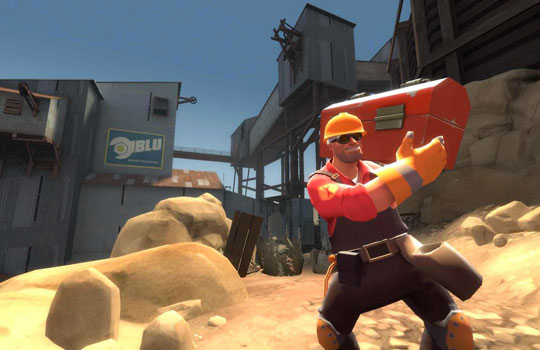 I played around with the new patch last night, on the new map Thunder Mountain, but I actually haven't played as an Engineer yet.  Why, you ask?  A few reasons.
First, everybody is playing as an Engineer right now.  It's one of my favorite classes in the game, maybe even my favorite, but I can't play on a team that is 90% Engineers.  The addition of being able to move your turrets around helps make the class play a little better on the offensive, but it's still boring to sit around waiting for sentry kills when everyone else is doing the exact same thing.  It also makes each round incredibly hard to win.
Second, since everyone else is playing as an Engineer, it's a great time to be other classes – particularly Spy or Soldier.  I racked up quite a few new achievements last night playing as both classes, because right now there are about four times as many destroyable objects being placed in the field than normal.  I actually noticed another small downside to the remote-control sentry ability here as well; as a spy, it's a lot easier to back-stab people near remotely controlled turrets because, unless the player who is controlling it is looking at you when you do it, you won't be instantly detected and can escape again much easier than before.
It was also fun to play on the new maps.  Almost nobody I was playing with knew them well, so we weren't mired down in the same old tactics you see whenever you play on maps which people have ran through a hundred times.
Overall, the class updates for Team Fortress 2 have added a lot to the game, and I applaud Valve for keeping at it.  I hope they continue to find interesting ways to give the game depth and add to the fun.  I know one thing for sure: I'm going to have a hard time not playing in most all of my spare time in the coming weeks.