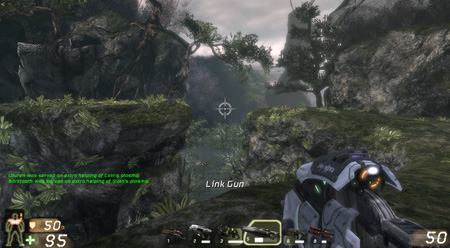 Last weekend, I logged onto one of my favorite gaming industry news blogs, Joystiq, and was surprised to see that the demo for the upcoming Unreal Tournament 3 was out for PC. After a few minutes of finding no other place to download than FilePlanet (complete with a 45 minute wait in the queue), I decided I might as well just Torrent it. Since this was already quite late on Saturday night, I slept through the download, and then got up on Sunday morning, ready to play.
Installation was quick, starting the game slightly less quick, but once in, things were nice and fast. For some reason (probably thanks to a poorly running demo of the Unreal Engine 3 powered Roboblitz on my old GeForce 6800 GTS), I was not expecting Unreal Tournament 3 to run very well, even on my newer computer (which packs a GeForce 8800 GTS). Instead, I was treated to a silky smooth frame rate, even with all the details maxed out, running at 1680×1050. I imagine that the game scales back for lower-end systems fairly well, as the Unreal Engine 3 seems as solid an entry as the first two iterations.
Graphically, Unreal Tournament 3 is just what you would expect from a sequel to Unreal Tournament 2004. The few environments included with the demo were packed with detail, and everything looks gritty right down the smallest bit of grass. The weapons have gotten a complete visual overhaul, and each one has an almost absurd amount of detail. When you get a a chance to actually see one of them (I'll get to that in a minute), the characters also look excellent, as did the various environmental effects, like waterfalls, fountains, etc. The engine coats everything with a soft HDR lighting effect, and like Gears of War, the game has a very brownish-rusty look to it. In fact, if you've played Gears of War, you'll almost expect to see Marcus Fenix himself running around with you on the various maps – the artistic influence of Gears of War is very prevalent in the UT3 demo. That's not a bad thing though, since Gears of War is easily one of the most visually stylish games I've ever seen.
The sound, while less notable than the graphics, is typical UT fair. I cannot presently remember if the game had music in it or not; if it did (and I will load up the game again soon to make sure), it was likely the standard techno stuff that you expect to hear behind all the sounds of gunfire and mayhem. And even though I really didn't expect much more than this, some part of me is disappointed… Maybe because of Gears of War's epic orchestral soundtrack, or the lack of more memorable tunes like those heard in the Unreal Tournament 2003 demo, I just get the feeling that more could be done with the series' musical accompaniment. Sound effects are of course, spot-on. Footsteps, explosions, bullets, vehicles, and everything in between sound just as I thought they should, and they often echoed the visual grittiness of the game very well. My only other concern with the sound was the slight repetitiveness of the auto-taunts, but this will be a non-issue in the final game when there is more than one character to play.
The gameplay in Unreal Tournament 3 looks to be a mix of old and new. While playing the demo, every weapon I encountered was from the previous game (UT2004). Every vehicle was as well, except for the huge spidery Matrix thing, and with only a few slight changes to the way most of the old familiars worked. A hover-board was one of the larger "vehicular" additions to the game, which allows players to move around the sometimes enormous battlefields quickly.
Speaking of 'quickly' though, there is something I really need to say about this game: it's too fast. I'm not sure if the speed of the game was intentionally increased or not, but generally when playing online I felt like I had entered one of those twitchy midway games you see at the fair, where you have to shoot targets as quickly and precisely as possible (and mostly you just sit there shooting wildly into empty air). Due to thoughtful weapon placement, nearly every time I spawned I found myself with a flak gun, rocket launcher, or rail gun, but more often than not, it seemed almost impossible to shoot other players with any of these guns. As far as I can tell, in the current build of UT3, the player speeds have been significantly increased over the last version, while the weapons speeds have not. This makes it impossible to score a kill with just about any weapon in the game at medium range and upwards. After a few desperate attempts to rocket people, it was back to the minigun and scoring some lucky kills with ricocheting flak shells. Slightly frustrating.
All in all, I really liked the demo, even if it didn't stray too far from the normal Unreal Tournament formula. I hope that something is done about the weapon speed / player speed issues in a later build (they have time, after all – the game is set to be released on November 19). I'm not sure if I'll be buying yet, but I'll have my eye on it. In any case, thanks for reading, and please post your thoughts on UT3, I'd like to hear them!