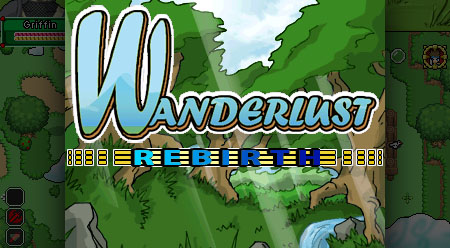 I'm pleased to announce that Team Wanderlust has finally unveiled a 'public' demo of Wanderlust: Rebirth, a game that many (myself included) feel is already one of the richest experiences crafted with Game Maker to date.
The game, a solo / online action RPG, represents a re-imagining of the original Wanderlust game, of sorts.  Upon starting, players can choose from a handful of classes, and can level up their character with points as they progress through the game's chapters.  Each chapter that is completed unlocks the next, and can be repeated again in order to obtain a higher rating, and earn more points.
Rebirth also features an intuitive dialog system, killer retro 16-bit style graphics, customizable controls, and of course, online play.  Using the Reflect account system, or by connecting directly, players can join up with each other and play through chapters as a party of up to 4 players.  The co-op gameplay is actually encouraged, as the game awards alternate scores for different group sizes, so if you want to complete the game in its entirety (and have some fun to boot), gather up some buddies and have at it!
I've really enjoyed watching this game as it is developed, and it's great to see it finally released to the public, and finding a warm reception therein.  A lot of work has been put into this game by just a handful of talented people, and I hope to see it finished in the time to come.
Matt, Rebirth's chief programmer, has also given me some great ideas to expand the functionality of Reflect as well – you'll see some of his suggestions come to fruition in future updates.
Anyway, I highly recommend you take the game for a test drive.  I'm sure you'll agree with the growing consensus that the new Wanderlust is truly an epic game, with lots to do, and lots of rewards for both the casual and the dedicated alike.
Wanderlust: Rebirth's topic at the GMC can be found here, or you can download the game directly here.  Discussion about Wanderlust is available at the GMC link above, or at the Reflect Games forums, here.
Good show Team Wanderlust!